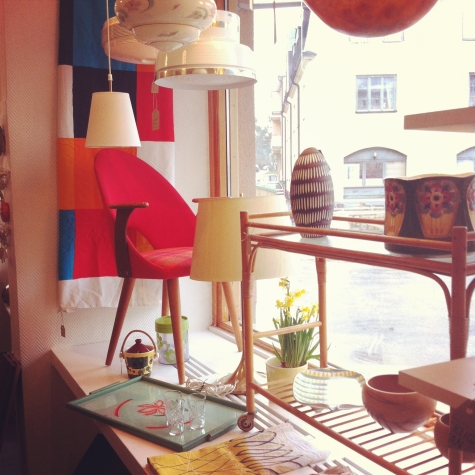 Elin Broberg just opened her own vintage store on Svandammsvägen in Midsommarkransen, just a few subway stops from Söder.
Born on the island of Gotland, she loves looking for interior products of all kinds and describes herself as a nerd when it comes to vintage objects. She loves old, unique and beautiful objects and clothing as well as human beings and animals with fun personalities.
Where did you get the name Lyckliga Gatan (Happy Street)?
It's a place where all the things I love can meet up. The singer Anna-Lena Löfgren sang the wonderful song Lyckliga Gatan (1967) that is about old times, something that reminds me of the streets around Midsommarkransen where the shop is.
When did you get the idea for the shop?
My parents brainwashed me as a kid.
Do you think that you are part of some movement in Stockholm?
I guess. If we are going to keep consuming the way we are this is a good way of doing it.
How would you describe Stockholm of 2012?
Wow, that's a difficult question. It feels like it's calming down. The famous "Stockolm anxiety" seems to be settling down a bit.
What's your hopes for this year?
To keep on working with what I love.